Welcome to Villajoyosa, Costa Blanca
Meaning 'the joyful town' (from the Catalan name La Villa Joiosa).
Located just 19 minute drive from Benidorm and 26 minutes from Alicante, the historic town of Villajoyosa stretches alongside a wide sandy beach that ends at a small harbour. Once a fishing village, the tiny houses that crowd along one half of the seafront are still painted in bright, gaudy colours that were originally used to help returning fisherman find their way home!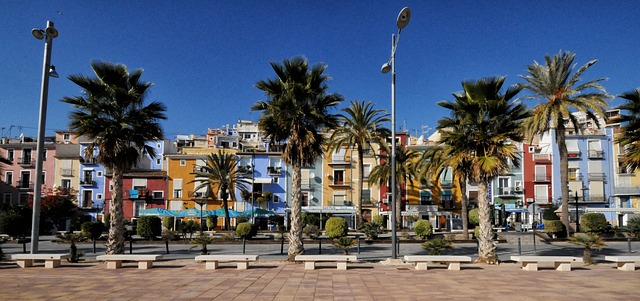 Villajoyosa has a number of buildings from its historic past. There are roman bridges, a delightful gothic church whose elaborate doorways provide an entrance to the old walled town centre and a 16th century watch tower that gave warnings against raids from Berber Pirates.
Don't miss the a visit to the old centre of the town with its bustling market, many of its stalls selling locally made artifacts, it has recently been declared an historical interest.
Today, the towns main income still comes from fishing and, interestingly, chocolate! Visit the Museum of Chocolate and taste the samples: pure heaven!
The combination of quaint old buildings with multi-coloured facades crowded into narrow streets, a lively fish market selling off the daily catch and its pretty location on the mouth of a river by a sweeping white beach, all make this town a sure bet for an enjoyable day trip.
Beaches near: Cala de Finestart – 10 minute drive, Poniente beach 15 minute drive, Levante beach 18 minute drive.
Villajoyosa Tourist Office; Tel. (+34) 966 851 371
Villajoyosa on map and hotels near!