Welcome to Finestrat, Costa Blanca
An endearing combination of Mountain and Beach
The lovely old village of Finestrat which lies 40 km North of Alicante and very near to Benidorm is very unusual, insofar as it is an inland mountain village and also a small tourist resort by the sea, called Cala Finestrat. The picturesque village, which hugs the mountain side of Puig Campana, has beautiful views from the mountains down to the sea; the architecture has a distinct Moorish influence and many of the houses are colourfully painted. Friday is market day.
Cala Finestrat
It's a 'village' of good quality apartments with a small selection of restaurants, plenty of cafes & bars, some with entertainment and a small variety of shops. Benidorm is only 3 km away with a good bus service and plenty of taxis it is easily accessible.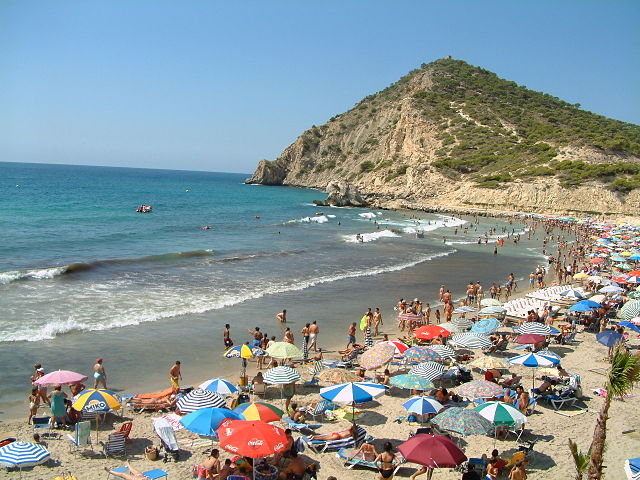 And you can also drop into La Cala just around the corner for good restaurants and a very quiet beach.
In the summer there's an art and crafts market in the afternoon along the seafront and a large weekly market away from the beach all year-round.
Golfing in Finestrat
Two more golf courses, the Real Faula, one professional, one executive, designed by the famous golfer Jack Nicklaus, attract golfers all year round. Finestrat is a perfect base for golfing holidays.
Finestrat, the ideal location
Terra Mittica and Terra Natura are within easy reach by car or taxi as are the extremely popular shopping complex 'La Marina' and Carrefour & Lidl hipermarkets.
By night, if you are looking for some excitement, you can try the Casino just up the road, watch the sun go down over a bottle of wine or just enjoy the lively scene and entertainment around the beach. But then again, you do have Benidorm just down the road, with Benidorm Palace and the The Square of Benidorm – to name just a few places that offers best nightlife in Europe.
Finestrat on Map and Near Hotels