Moraira, a stylish coastal resort in lush, green surroundings
Moraira, Costa Blanca
About 40 minute drive (and 40 km away) from Benidorm, the elegant former fishing village of Moraira can be reached in about an hour along the A-7 motorway from Alicante airport. Nowadays the town has been transformed into a stylish resort catering to the needs of both Spanish and Northern European visitors and residents alike.
Careful planning and a policy of only allowing buildings of five storeys and less means that the green hillsides surrounding Moraira are still visible from any part of town.
Moraira Castle
Likewise much of Moraira's past fishing village existence remains today in its buildings and customs. There is still a fish auction held daily from Tuesday to Sunday in the Lonja, the public exchange, in the heart of the port area. The castle, extremely modern by Alicante standards, was built 'only' 260 years ago by the ruling Bourbon family and their crest can still be seen over the doorway.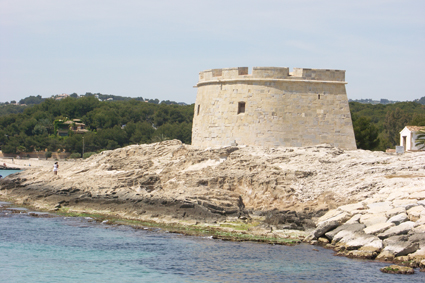 Moraira Holidays: Things to do
Moraira Beach
By day visitors will find a host of activities from lounging on the fine beach and sandy coves to more strenuous pastimes like golf, tennis, hiking and even karting on land, and from the modern marina water sports aficionados are well catered for with diving, sailing, and water and jet-skiing.
Cafes and Bars
Evenings are a low key affair – a stroll along the seafront paseo, some retail therapy in the many shops and a wonderful choice of restaurants, Spanish, Italian, Greek, Japanese, Dutch, Chinese and even English cuisine are just a selection of those to be found.
Golf near Moraira
The Ifach Golf Club is very near Moraira. It boasts spectacular views over the coast to the Rock of Ifach at Calpe.
The stylish and modern 4 Star Swiss Moraira Hotel is the perfect place for a relaxing break. And, they also offer golf courses.
Fiestas in Moraira
Like almost every Spanish town, Moraira also has its fair share of festivals. Don't miss the main ones:
Moors and Christians from 14th to 20th June and the town's patron saint's festival, The Virgen del Carmen on 15th and 16th July.
Whatever the time of year, Moraira, with its wonderfully mild climate is an extremely pleasant place to stay.
Moraira Hotels and Map