Welcome to Alicante, Costa Blanca
If you're on holiday in Benidorm there's every chance you arrived at Alicante airport. However to think of Alicante City only as the gateway to the Costa Blanca does this vibrant city an injustice.
A short visit will introduce you to an elegant city with a stylish marina, fashionable shops, a wide sandy beach and enough history and culture to satisfy most!
Alicante to Benidorm
From Alicante Airport to Benidrom there is about an hour drive. You can catch a taxi or a bus with 8 daily transfers, or if you need you can rent a car here and drive to Benidorm.
Also you can take the easy way and find online Alicante to Benidorm transfers. There are private shuttle buses who will pick you up and take you directly to your hotel.
How much is a taxi from Alicante to Benidorm?
The cost per taxi from Alicante Airport (El Altet) to Benidorm is about 70€.
There is also a bus every hour from the airport to Alicante city centre, costing €1 per person. From there regular buses to Benidorm cost €3 per person. More Info online or +34 902 422 242.
*Note: This info is subject to permanent change. Please check online for updates and prices before you travel!
Discover Alicante
Alicante is a city with a village atmosphere. You will still find those old Spanish shops where the owners sit outside on a stool to gossip with the locals as they stroll by. No-one is ever too busy to chat.
It's an elegant city with much to offer – an as yet, undiscovered gem which can delight for a day trip or a weekend break.
To get a sense of the history of Alicante and breathtaking views of the coast, make the trip up to Santa Barbara Castle. Originally built by the Moors in the 10th century, and extended and modified over the years, the castle has everything you could wish for; a palace, cannons, a moat, dungeons and plenty of places where boiling oil was thrown over attacking marauders!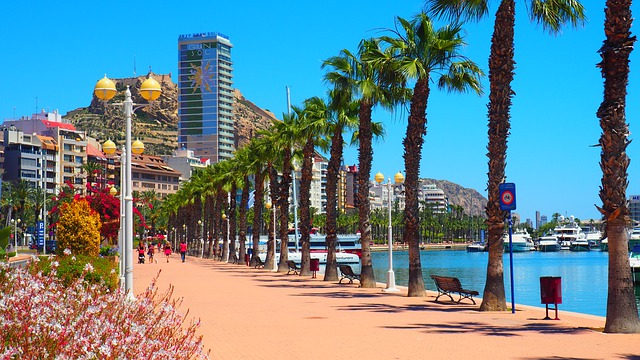 Down on the ground – the heart of the city is the Esplanada de España, a long promenade dotted with cafes and craft stalls and shaded by four rows of palm trees on either side. It's the perfect place to soak up the atmosphere, but don't stop there – across the road you will find Benidorm marina complex with its fabulous bars and fish restaurants. Popular with the boating crowd, you can see fine examples of what a few million pounds would buy you! Well, we can all dream!
Leading off the Esplanada is La Rambla, the main road in the city. Here you will find the tourist centre and many of the city's interesting buildings, such as the Cathedral of St Nicolas, hidden in the back streets.
Sunday is the official 'strolling about' day in Alicante, when you can also enjoy a free concert performed on the Esplanada. Whilst in the warm evenings open air concerts are held in many of the squares along with entertainment for children.
A final suggestion would be to take a stroll around Santa Cruz, the most picturesque area of the city. Its narrow cobbled streets wind upward towards the quaint chapel built into the old town wall. As you climb you pass small, colourful houses with geraniums overflowing from wrought iron balconies, and when you reach the top – panoramic views; you'll kick yourself if you've forgotten your camera.
Alicante Spain Map and Places to Stay!
Everything in this user-friendly city is within easy reach. So, have we managed to whet your appetite? Then why not explore more of Alicante with us!
Search for Alicante hotels using our map tool and find the best deal on your favorite location in the city.