Albir's beach is covered with pebbles that are quite small, ground very smooth by the sea and can easily be walked on, even with bare feet, quite contrary to common belief, these pebbly beaches are actually very comfortable, especially during the summertime. The pebbles tend to get less hot than sand and do reflect less heat so you will not get cooked from beneath and from the side when sitting or laying down. And at the end of the day your belongings are free of those tiny grains of sand, including the ones which inevitably end up in and around particular private areas of your bathing costumes J.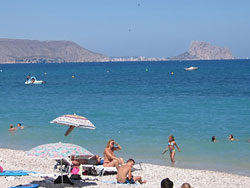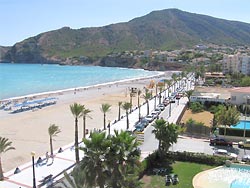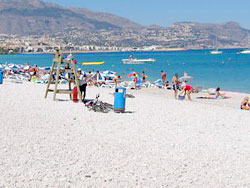 Forgot to bring your sunbed or parasol, or just not in the mood to lug them around? No problemo! Senor Pablo Nuñez's (yes the same offering sunbeds, shade and library facilities at Benidorm's beaches) charming wife and daughter will be more than happy to oblige. These friendly, multilingual, people can provide up to 400 seats and beds on Albir's playa. A sunbed will costs you € 3,-. A parasol € 2,50. Room under the static shade area € 3,- (all these prices are per day). Pedalos with a slide up front can be rented for € 9,50 per hour.
Unfortunately, the beach has no special facilities for disabled people. With some effort you can get a wheelchair on the beach though. Messrs. Nuñez offer a free sunbed and parasol for disabled residents of Albir.
Also, a nudist beach is available which one can find on the left hand side when taking the road towards the old lighthouse. So, should you fancy a stripeless tan and be a nudist fan, you know where to go. Towards the Lighthouse matey!
Along the beach you will find facilities to rinse your feet with fresh water before you step onto the boulevard. And for the junior visitors to the beach, there are 2 children's playgrounds where the little ones can have some safe fun. The playgrounds are unattended so parent will have to arrange that for themselves.
During the swimming season, the beach is constantly monitored by 3 life-guards. At daytime an ambulance is permanently parked on stand-by and for minor injuries (such as abrasions) you can visit the permanent first-aid post at the beginning of the boulevard.
Public toilets are situated in the middle of the boulevard so you have to walk (or run, depending how pressing the call of nature is) an equidistance from either end of the beach.
Watersports
"Well, that's all swell" you would say. Suppose you want to spend a day at the beach but you're more of an active personality, or you just don't like laying in the sun. Again, the Albir beach will not disappoint you. How about windsurfing, para-sailing, ocean-kayaking, banana- or doughnutriding, waterski, or sea-excursions? Not proficient in any of the aforementioned activities or got a bit rusty at it? Not to worry, the kind people of Rutas Azules will be more than happy to teach you or refresh your skills. They are situated on the beach in a white 20' sea container at the right hand side of the large white life-guard tower. You can't miss it, just look for the colorful stack of kayaks and flags. Costs for the activities are as follows (2005 season).
ACTIVITY
PRICE
DURATION
Windsurfing
15,-
60,- for 5 hour pass
1 hour
Para-Sailing
1 person 50,-
2 persons 80,-
15 minutes
Banana-boat
15,- per person
15 minutes
Doughnut rides
22,- per person
15 minutes
Ocean Kayak single
10,-
40,- for 5 hour pass
1 hour
Ocean Kayak double
15,-
60,- for 5 hour pass
1 hour
Waterski
28,- per person
(Minimum 2 skiers)
10 minutes
Excursion
30,- per person
60,- per person
1 hour
2 hours
Sailing
In the marina of Altea (the neighboring town) you can rent sailing boats. In order to take the boat to sea yourself, you need a valid "carnet de patron" or sailing license. Should you not want to command a vessel but just tag along for the trip, the rental company can also provide a sailing boat with a master.
Book your apartment or hotel in Albir online with Booking.com and Benidorm Spotlight.
Get Directions: Albir, Spain on Map